Hear from a curated panel of business leaders and risk management professionals who share how they're successfully taking on safety and risk management to bring down workers' compensation costs.
Check out our top four highlights:
The most important part of any safety culture is leadership commitment. Create your company culture with safety as the foundation and hold management accountable for ongoing discussions and committee meetings.
Determine exposures beforehand. You should be examining each job function in an attempt to predict and prevent injuries before they happen. Make adjustments to your safety procedures as needed and be sure to communicate them!
Over one-third of employee injuries occur within the first 6-12 months.Prioritize safety procedures during onboarding and provide continuous training to new hires throughout their first year.
Be sure to stay on top of your eMod worksheet. By filing claims ASAP and keeping them up to date throughout their cycle, you can help lower your eMod score.
Watch the full webinar below for more details!
How to Take Care of Your People AND Lower Your Work Comp Costs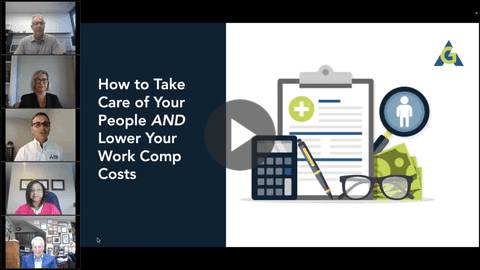 This content is not intended to be exhaustive nor should any discussion or opinions be construed as legal advice. Readers should contact legal counsel or an insurance professional for appropriate advice. Gregory & Appel is neither a law firm nor a tax advisor; information in all Gregory & Appel materials is meant to be informational and does not constitute legal or tax advice.