Prevent Cooking Fires With These Best Practices
Today marks the start of the National Fire Protection Association's annual Fire Prevention Week. This year's theme is Cooking Safety Starts With You. Pay Attention to Fire Prevention.
To support this national agency's efforts, we've gathered some important cooking tips to remember. While many of these tips may seem like common sense, these helpful reminders can help prevent damage to your home and property and even save lives.
Why It's Important
According to NFPA, cooking fires accounted for 49% of all home structure fires between 2017 and 2021, by far the biggest cause of both fires and injury.
Additional statistics of note:
And, according to reports by Indianapolis CBS4 and The Washington Post, house fires burn significantly faster today than they did in the past due to higher use of synthetic materials in homebuilding and in items like furniture and carpeting used in the home. That means cooking safety is more important now than ever.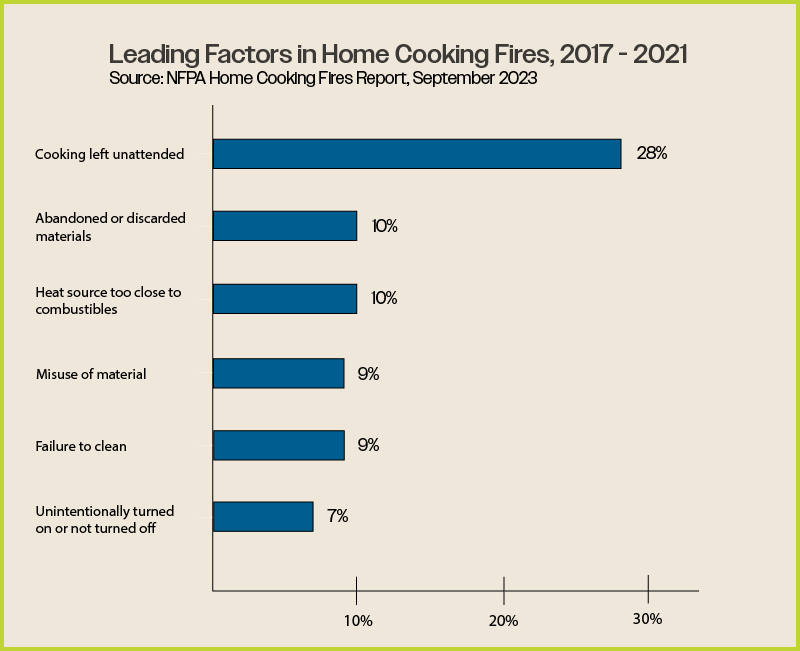 Tips for Fire Safety
With that information in mind, let's cover some important safety tips that can help reduce risk while cooking.
Never leave cooking unattended. If you leave the kitchen for even a short period of time, turn off the stove. Unattended cooking is the most common cause of home cooking fires (28%) and accounted for 48% of deaths between 2017-2021. [3]
Keep cooking area free of flammable materials. Hand towels, oven mitts, food scraps, plastic and wooden utensils, food packaging and cooking oils should all be kept well away from flames and hot surfaces.
Regularly clean stovetop and burners. Even a small amount of grease can be a hazard, and residue can build up over time. This causes 9% of cooking fires. Always wait until cooktop has fully cooled to clean.
Have a "kid-free zone" of at least three feet around the stove and area where food is being prepared. Any children in the kitchen should be supervised at all times.
Double-check to make sure oven and stove are turned off. In a busy kitchen, it's easy to pull a pot or pan off the stove and forget to switch off the burner. Or, maybe you turned off the cooking element but didn't turn the knob all the way off. Always double-check. This causes 7% of home cooking fires.
Have a working fire extinguisher — and know how to use it. If you choose to put out a small fire yourself be sure you have a clear way out and that family members are already evacuating and safe from danger. Fighting the fire can put you and others at risk.
When in doubt, get out. If a fire has already started to spread, the safest choice you can make is to evacuate the home. Close the door behind you to reduce airflow and slow the spread of the fire. More than half of non-fatal injuries occur when people try to control the fire themselves. [3]
Always set a timer. Losing track of how long something has been on the stove could spell danger, especially when frying or cooking with oil. Overheating or spilling food in an oven can also be a hazard.
Other Things to Remember
While the following tips and reminders aren't directly related to cooking safety, this time of year is a great time to remember and plan for the following:
Test and replace batteries in fire alarms regularly. Pay attention to manufacturer guidelines for servicing smoke detectors. If it takes a home fire to realize your smoke detectors don't work, it's already too late.
Know and rehearse your escape plan. Especially for families with younger children, know how to escape each room of your house in the event of a fire. Practicing this plan with young children could make a difference. Don't stay to secure valuables — things can be replaced, people can't.
Take care of yard clutter, especially around fire pits and grills. Trash, yard trimmings, fallen leaves, wood piles and dry grass can all be instant fuel for a fire. Don't burn leaves. Not only does this pose a risk to the environment and to your health, it can cause a fire.
Be careful with space heaters. Temperatures are dropping and before you know it, the cold of winter will arrive. If you're using a space heater in your workspace, basement or bedroom, keep it at least three feet away from combustible materials. Turn it off and unplug it when not in use. Always plug directly into a wall outlet, and keep it out of walkways where ity may be a tripping hazard.
Replace HVAC filters. Always adhere to the manufacturing recommendation for replacing your filter at regular intervals. An old, dirty filter can restrict airflow through heating ducts and put you at risk.
If you are looking for more cooking & fire safety tips, more information can be found at NFPA.org.
[1]: NFPA's Home Structure Fires research, April 2023.
[2]: NFPA's Home Cooking Fires infographic.
[3]: NFPA's Home Cooking Fires research, September 2023.
This content is not intended to be exhaustive nor should any discussion or opinions be construed as legal advice. Readers should contact legal counsel or an insurance professional for appropriate advice. Gregory & Appel is neither a law firm nor a tax advisor; information in all Gregory & Appel materials is meant to be informational and does not constitute legal or tax advice.